Reopens Spring of 2022!
No reservations: We operate on a first come first serve basis, and do not take any reservations for any size group. Please be aware that any groups over 12 guests could be split into several large tables but we will do our best to accommodate every party.
The Hill Bar & Grille will reopen June 8th, 2021 through October. 
Love McIntyre in the Winter? Why not enjoy it in the Summer too!
The Hill Bar & Grille offers picturesque views of the slopes from the base patio and lawn seating areas.
This family friendly atmosphere is great for anyone, play some corn hole, horseshoes, or giant jenga on the lawn or just enjoy the scenery and the New England weather from our patio and lawn seating with some delicious food and beverages!
Light live music will be played most Friday and Saturday evenings when the weather permits and the fire pit will be roaring every evening when permitted to do so.
Service dogs only: Although this is an outdoor establishment, we only allow certified service dogs.
Tuesday Night Cribbage: Beginning Tuesday June 29th, join us every Tuesday night for a cribbage tournament!  We will run a single elimination doubles cribbage tournament each week through Labor Day, with the potential to continue past Labor Day depending on interest and participation.  We will open registration beginning at 5:00pm each week, with the tournament starting at 6:00pm.  The registration cost is $20.00 per team, with prizes available for the top teams!  Come show off your cribbage skills and skunk the competition!
Wednesday Night Cornhole: While we will always have cornhole boards available to play while dining with us, consider joining our Wednesday Night Cornhole League for anyone 21 years of age and older!  We will be running a 10-week doubles league beginning Wednesday June 30th.  The league will consist of 9 weeks of round robin league play, with the final week being a double elimination championship tournament for the top 16 teams.  Teams will have the opportunity to play 4 games each week of league play. Bags fly at 6:00pm each week.  Registration cost is $100 per team.  Each registration will also include two drink vouchers and a half-priced appetizer voucher which the team may redeem once at any point throughout the league. We will also run league exclusive specials each week!  There are lots of prizes and give-away items up for grabs as well!
Thursday Night Trivia: Join us for Thursday Night Trivia beginning July 1st!  Come show off how big your brain is with our bar trivia.  Compete solo or bring a team of up to 6 people.  There is no cost to participate, and we will have prizes and giveaways each week! Questions will include topics such as: General Knowledge, Music, Science, Geography, Pop Culture, and many more!
Please reach out to Tom via email, Tom@mcintyreskiarea.com, with any questions, requests for more information, and cornhole league applications!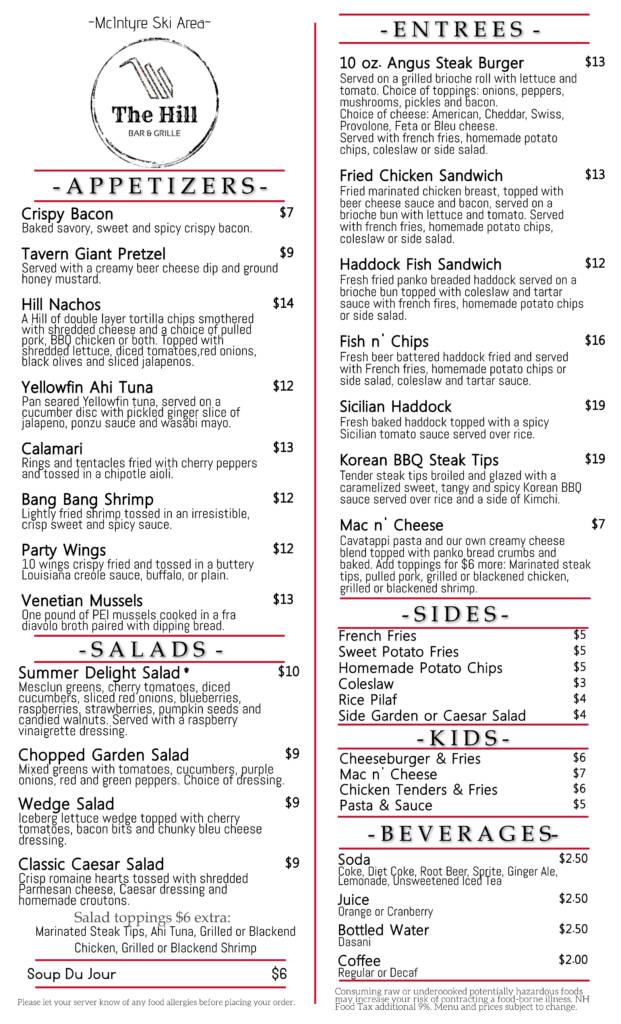 Interested in joining our team?
Click here to download the application for employment at The Hill Bar & Grille. You may email your application to office@mcintyreskiarea.com or bring it by in person during restaurant hours!